Knowing how to clean the outside of a house is never as simple as it seems, especially if you thought all you need is a pressure washer. High pressure usually leads to more damage when you use an improper technique. For starters, you need the right amount of pressure to avoid causing costly damages during exterior house cleaning. Use insufficient pressure, and you end up with an unclean surface.
Some of the most common outside house surfaces that need cleaning include composite decks, paver patios, vinyl siding, pressure-treated decking, concrete walkway patios, and EIFS. Here is a quick guide on how to clean exterior of house.
Composite Decks Need Light Pressure
Did you know that some composite decks are composed of less composite material than wood material? Too much pressure will, therefore, cause irreversible damages. Homeowners need to exercise a lot of caution when pressure washing composite decks. You will notice visible cracks when you use high levels of pressure.
Vinyl Siding Requires Commercial Grade Cleaner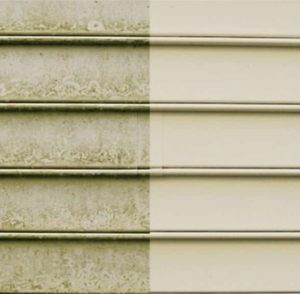 Vinyl has quickly become quite popular in the United States over the past decade. It is a resilient surface that offers long-lasting use. If you're wondering how to clean the outside of a house with vinyl siding, you'll need both a commercial-grade cleaner applied with the correct amount of pressure to clean these surfaces. Due to oxidation, excessive pressure will damage your vinyl siding. Nearby plants need to be protected from overspray with the cleaner; an extra step that we do for our customers all the time.
Removing Mold from Pressure Treated Decking
Do you have a second-story balcony or a full wrap deck? This pressure-treated decking needs sufficient pressure to remove organic matter from the surface. Although this material is resilient, it will rot when left unmaintained. For starters, this area of your house needs more cleaning pressure than vinyl siding to break the link between the decking material and mold.
Cleaning Concrete Walkway and Paver Patios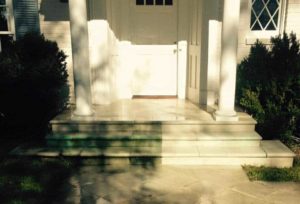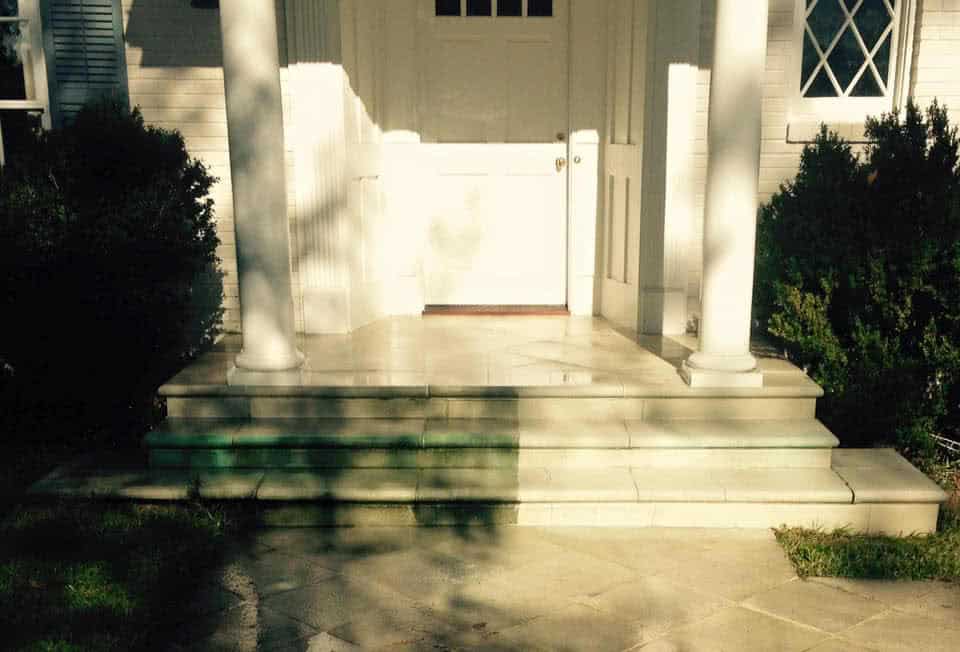 Most houses have a brick or concrete patio or front walkway that needs regular cleaning. Because these surfaces are significantly porous, you need a lot of pressure to clean them well. Your concrete walkway or paver patio is exposed to the elements and needs professional cleaning. These surfaces require a thorough washing to remove the grime layer before applying detergent to renew the shine.
EIFS are Delicate!
Have you heard of Exterior Insulation Finishing Systems (EIFS)? Common examples include flex lite and Dryvit. Well, these surfaces are delicate, and cleaning them with high pressure will leave permanent markings. Although you need almost the same pressure as vinyl siding, the cleaning detergents need to be more concentrated. Note that organic and algae growth lives inside the EIFS rather than on top. You need an experienced professional to help you choose the correct pressure to clean EIFS on your house.
Get Professional Help
You can always learn how to clean the outside of a house, but you need professional help when handling delicate surfaces. Using the wrong amount of pressure to clean your home's exterior can cost you lots of money on repairs and replacements. At Pro Finish Pressure Washing, we can help you with all your house exterior cleaning needs. Ensure you contact us today for dependable professional cleaning services.